Mini
Designed & engineered in Sweden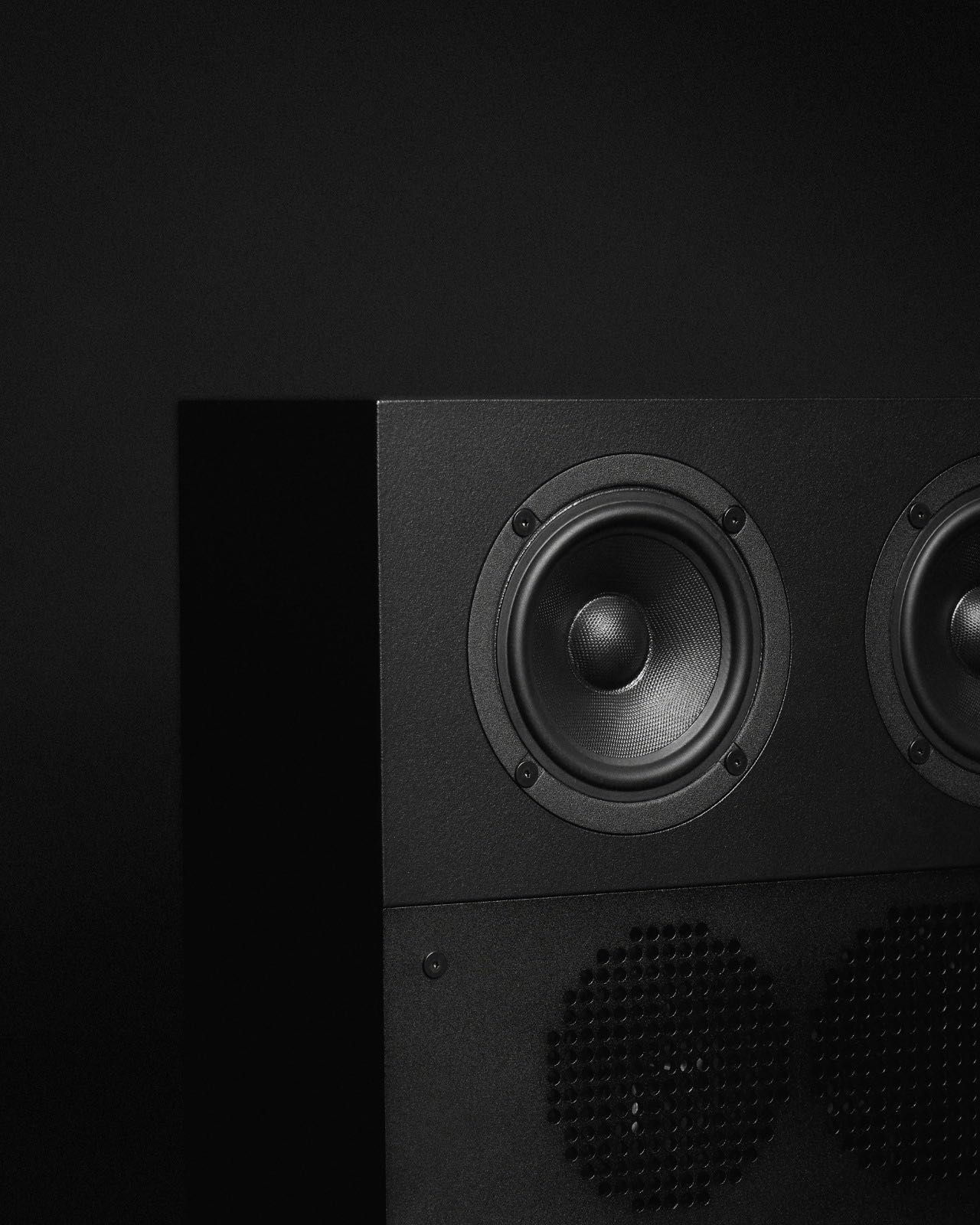 The Mini project began back in June 2022, a time of creative sparks at the Lab in Lund, Sweden. We set out with a rather ambitious goal – to redefine how compact speakers could deliver a full and natural sound. The driving force? The unmistakable Nocs studio sound.
After a year's worth of R&D, we're thrilled with what we've accomplished. The Mini isn't just holding its own against the competition; it's carving out its place at the forefront.
"I found inspiration in the nostalgic charm of older radios while embarking on the design journey of Mini. My goal was to seamlessly weave together the elements of symmetry and asymmetry, a task that posed an exciting challenge. Symmetry is often straightforward, especially in speaker placement, but with Mini, I sought a more dynamic and playful appearance, delving into the realm of asymmetry. The monochromatic aesthetic plays a pivotal role, allowing us to retain a sense of simplicity while infusing Mini with a subtle yet timeless retro essence."
"We were driven to preserve the Nocs Studio sound within a smaller unit. In the process, we encountered several challenges: For example how do we maintain a solid bass response within this ultra-compact frame? The answer lay in our decision to choose a subwoofer module with a passive radiator over the conventional vented design – a choice that defines Mini's distinct character."
Every challenge brings opportunity. Embracing a somewhat unconventional solution allowed us to rethink and reimagine. It's a reminder that innovation often thrives in the face of challenges.
Mini's development allowed us to build upon the foundation we laid with Monolith. By utilizing the same technical platform as the Monolith, we've ensured that Mini embodies the same quality and performance that our customers have come to love."
Daniel Alm, Founder Nocs
In detail
The case is thoughtfully fashioned from MDF and finished with a structurally and durable paint, guaranteeing durability while maintaining distinct acoustic properties thanks to internal bracing.
The anodized aluminum plate that covers the passive radiator showcases a perforated pixel pattern, giving Mini a timeless look that fusions style and function.
The MDF is CNC'ed to the right geometry, and the surface is then treated with a structured matt paint. We aimed for a monochromatic vibe, which we achieved through the use of matte paint and sandblasted aluminum that harmoniously come together.
In our pursuit to provide unparalleled sound quality, we've incorporated Sorbothane damping into the base of the Mini. These pads effectively curb vibrations, ensuring a stable listening experience that's free from unnecessary movement.
We continue our collaboration with Scan-Speak, based in Denmark, as our local partner to deliver the highest caliber of speaker performance. Founded in 1970, Scan-Speak is renowned for its superb sound quality and high-end speaker drivers.
Our assembly partner is based in Estonia, where a speaker haven has existed since 1935. Their well-honed craft and accumulated wisdom add another layer to our European manufacturing journey.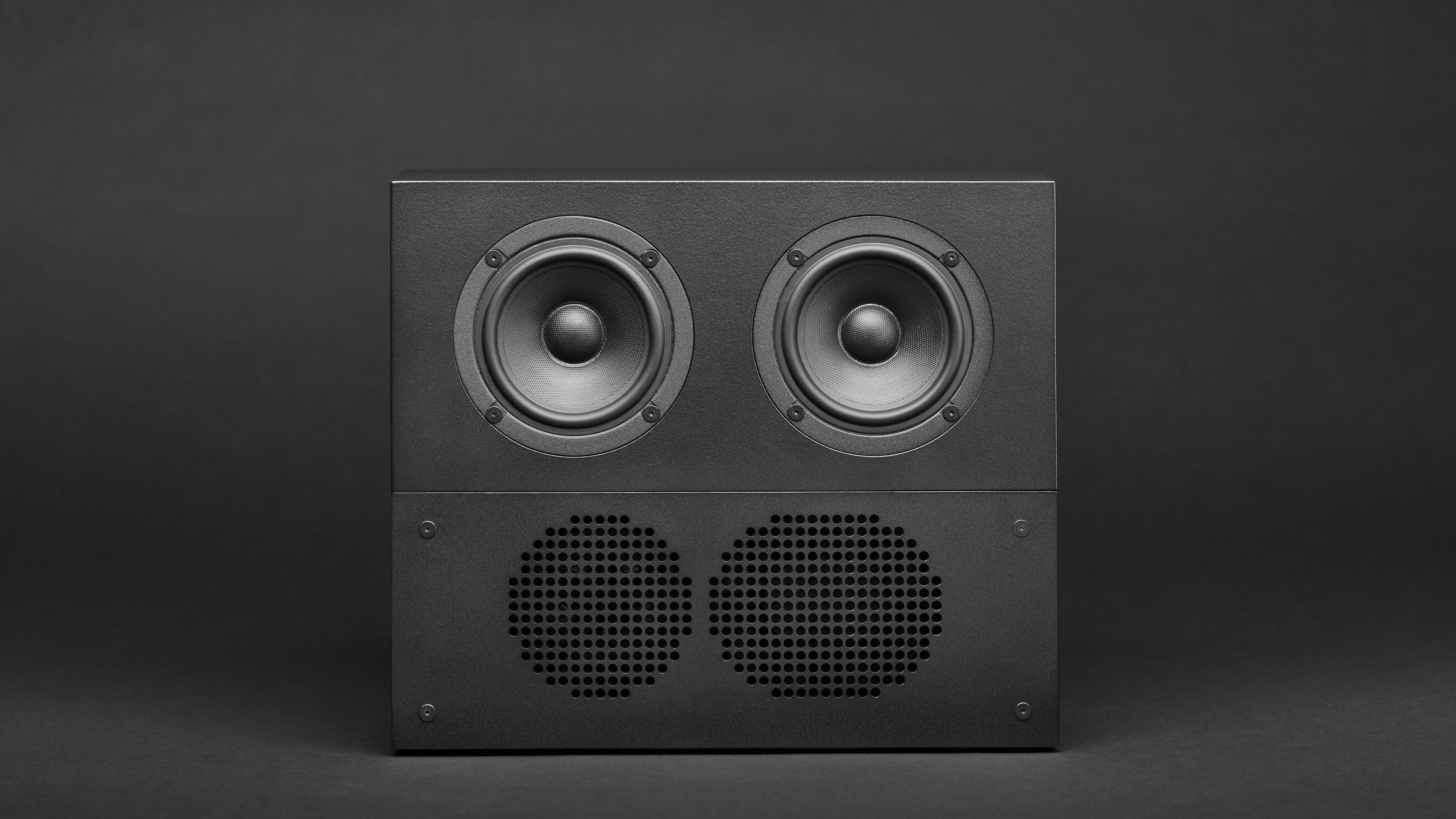 Nocs studio sound
At Nocs Lab, audio development always begins with the musician community. The insights are invaluable in creating the right tuning, honing the experience to preserve the artistic integrity through the speaker. ​ 
Our Nocs Labs engineers are laser-focused on the relationship between the artist and the listener, tuning drivers to perform ultimately. Premium components further empower the highest-quality sound. 
In the Mini the two Scan Speak drivers have been coupled with a custom tuned subwoofer module to be able to retrieve our signature sound.
Cradle to cradle
After a few years of production in China, we made the important call to move production back to Sweden & Europe. 
Why? Our products are designed for a circular economy. In addition to the elevated quality and appearance, we've prioritized a modular design that can be repaired and upgraded over time. 
Speaker technology is constantly evolving, and for most products, the endless desire to upgrade means instant obsolescence for older models. Not the case with the Mini — upgrade one part at a time while the unit remains intact.
Be part of the sonic evolution – your Mini awaits.
Price & Availability
The Mini will be available for pre-order as of today at 750 USD for US & 900 EUR for Europe. Shipping starts 16:th of October.
https://nocsdesign.com/products/mini
Design & Development
The design of Monolith and Mini by Daniel Alm. Engineering by Zoltan Michis.
We just launched a dedicated Nocs Labs discord channel for our community to follow the progress. Join the channel here.
Technical
Frequency response: Smooth from 40 Hz to 20 kHz
Two full range 3.5" drivers.
ScanSpeak DISCOVERY 10 cm Fullrange 8 ohm Small Neo Magnet, Coated Fiberglass Cone
Custom tuned subwoofer module with a passive radiator. Neodymium magnet, 3" PP long stroke subwoofer driver.
Driver 3" inverted shape driver. Diaphragm material: PP composite with elastomer. Case material: PP composite, braced.
NAT - Nocs amplitude tuning. Offers consistent sound on the entire amplitude range.
Multi-room playback optional with up to 8 Minis.
Class-D amplifier 110 watt and wireless stereo.
@ 1m (Maximum sound pressure level)
94 dB
Dimensions
270 mm x 230 mm x 106 mm
10.6 x 9 x 3.9 x 4.1 inch
Weight: 3.3 kg - 7.9 pounds
Connectivity
​Spotify Connect & Tidal Connect. Bluetooth 5.0. AirPlay 2 (in the works). The Monolith & Mini works seamlessly together in the same app. Enabling multi room playback.
Spotify Connect
Listen on your speakers, games console, Smart TV, or many other devices, using the Spotify app as a remote. Go to http://spotify.com/connect to learn how.
Tidal Connect
Stream your favorite music seamlessly from the cloud straight to your devices.
Stream innovative audio formats through TIDAL HiFi Plus, including Master Quality Authenticated (MQA) & Dolby Atmos.
Switch seamlessly between devices without leaving the app. Make or receive calls without interrupting playback.